In our meetings with Bluespark, the development firm hired for this project, and the library administration, we determined three circles of service the library provides that would be the focus of the new website: consume, learn, and make. Under the guidance of our Director, Mary Anne Hodel, we determined that the main target audiences for the new website are children and families. This doesn't mean the new website is for children, but it does mean that our main goal is to ensure the programs, services, and products we offer for children and families have a strong presence in the website.
 
In the design for the new homepage, you will see the three areas of focus reflected in the main site navigation: Books, Movies & More (consume), Classes & Events (learn, make), Learning & Research (learn), and Rooms & Studios (consume, make). Take a look!
 
The new website will feature themed homepages. Themed homepages allow us to concentrate promotion of programming, services, and products around a centralized theme tying into system-wide activities such as Summer Reading Programs (SRP) or Technology. We plan to switch out themes on a monthly basis, providing customers a sense of discovery and that there is always something new happening at the Library when they visit the site.
 
In the following homepage design, you can see an example of a Kids SRP themed homepage (click the image to see the entire mock up).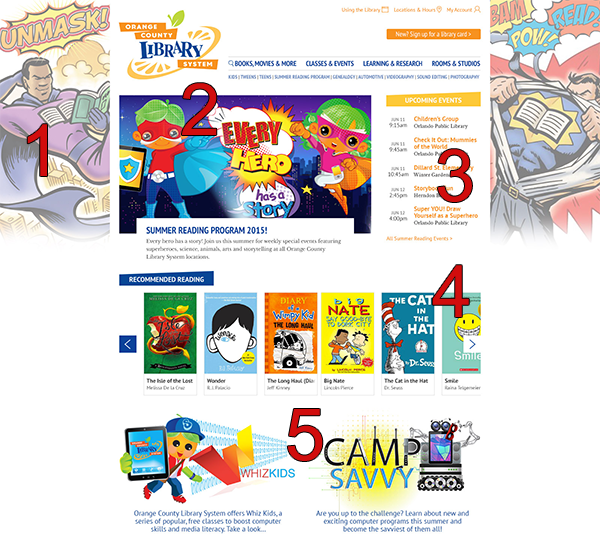 Note the five areas that relate to the theme:
Background image
Main Promotion (also known as a "hero" image)
Upcoming Events
Recommended Reading
Secondary Promotion (two spots)
 
We've reached the end of the definition phase of the project, where we were meeting with the developers virtually to define the technical requirements for each section of the site. Development has begun!
 
The new website is expected to launch in October 2015.